AN INDUSTRIAL MACHINE
FOR PROFESSIONAL PRINTS
The BigRep PRO. German-engineered for speed and precision, the PRO is a machine for industrial solutions.
Bigrep has designed and manufactured a machine that prints with engineering-grade materials to meet users users needs in large scale manufacturing applications. The PRO is an industrial 3D printer that responds to market demands.
Whether it's functional prototypes, composite tooling or end-use products, the PRO delivers, with a range of new features, including a state-of-the-art Bosch Rexroth CNC system, new Metering Extruding Technology (MXT), an enclosed build chamber and temperature-controlled filament chambers.
The PRO has been inspired by the ONE and STUDIO 3D printers, winners of multiple awards including the German Brand Award 2018, the German Innovation Award 2018 and the German Design Award 2016.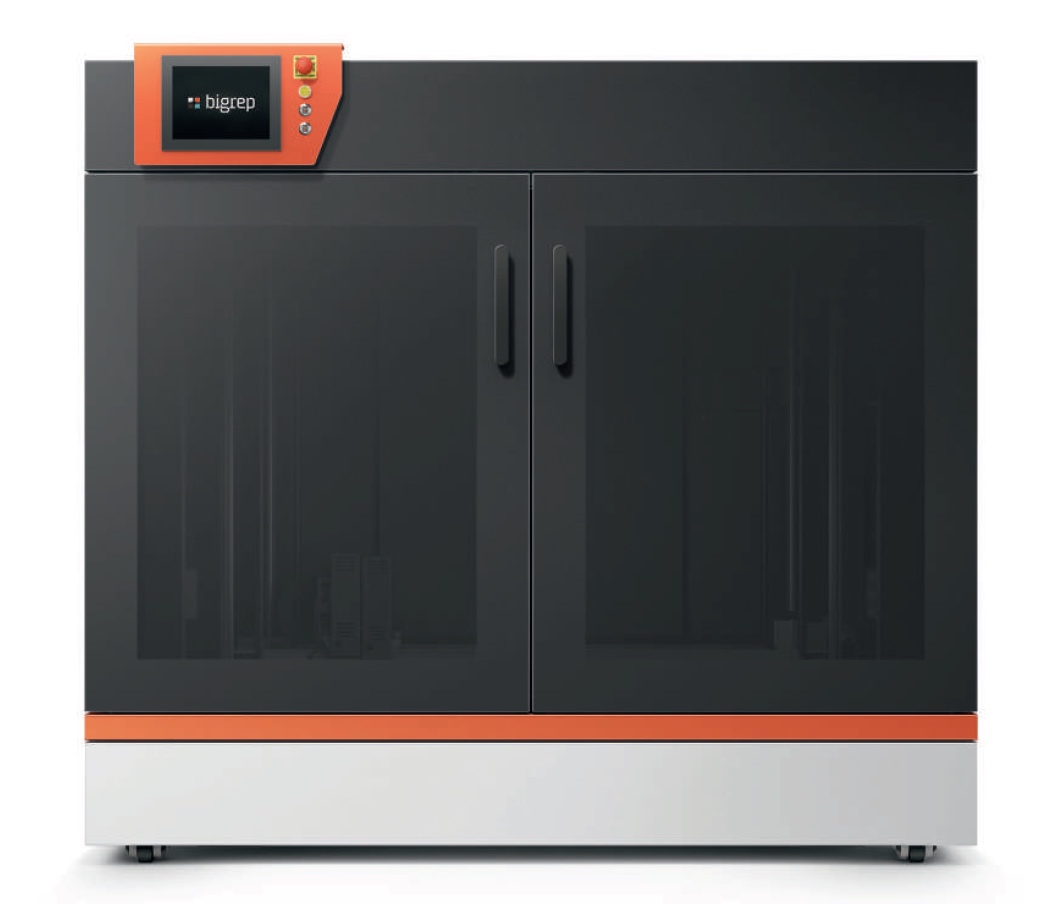 Build volume
x 1005 y 1005 z 1005 mm
Layer height resolution
0.1 – 0. 8 mm
Printing technology
FFF – Fused-Filament-Fabrication
(Material Extrusion)
Extruder
Two MXT extruders
(MXT with 0.6 mm and 1 mm nozzle)
Certified materials
ASA, PA66 (More engineering materials in development)
Support materials
Soluble Plastics
Print bed temperature
Max. 99°C
Printer weight
Approx. 1550 kg
Size
x 1950 y 2430 z 1790 mm (without tower light)
Power
3 X AC 400 V, 50/60 Hz, 5100 W
Safety Certifications
CE approved

The BigRep PRO has been specially designed to print with engineering-grade materials, to bring serious designs to life in all production environments. BigRep has developed its own filaments in these categories that have been optimised for high-level performance on the PRO. BigRep undertakes a rigorous testing and certification process, which underpins its material research and development – quality machines deserve the highest quality materials.
THE BUILD PLATFORM
Large-Scale Prints
True to its name, BigRep makes machines for big prints, and the PRO is no exception. With a build envelope of one cubic meter, the machine is made for 3D printing of large-scale industrial objects, enabling countless application possibilities.
THE INSULATED FILAMENT CABINET
Industrial Material Compatibility
The PRO provides an optimal environment for printing with industrial-grade materials, due to a humidity controlled spool chamber. Air circulation fans within ensure air flow for uniform temperature throughout the filament cabinet, and the cabinet stores up to four filament spools.
THE ENCLOSED FRAME

Shielded Printing
An insulated enclosed metal frame ensures optimum even temperature control and the glass doors offer an optimal view on the print. Further improving safety is the PRO's compatibility with standard ventilation systems, for fume and emissions control, making it a best practice example for 3D printing in industrial environments.

THE BUILD PLATFORM

THE ENCLOSED FRAME

Shielded Printing
An insulated enclosed metal frame ensures optimum even temperature control and the glass doors offer an optimal view on the print. Further improving safety is the PRO's compatibility with standard ventilation systems, for fume and emissions control, making it a best practice example for 3D printing in industrial environments.

THE ENCLOSED FRAME

 

THE INSULATED FILAMENT CABINET

Industrial Material Compatibility
The PRO provides an optimal environment for printing with industrial-grade materials, due to a humidity controlled spool chamber. Air circulation fans within ensure air flow for uniform temperature throughout the filament cabinet, and the cabinet stores up to four filament spools.

THE INSULATED FILAMENT CABINET

THE MXT®

Speed & Precision
BigRep is introducing a metering extruder technology (MXT®) with exceptional speed and precision, which is one of the defining features of the PRO. This state-of-the-art extruder allows for ultimate control on the materials deposition, allowing users to achieve the highest quality for every application.

MXT® Metering Extruder Technology

THE PRINT BED

Semi-Automatic Levelling
The heated print bed mounted with polyimide foil provides optimal adhesion in the printing process. An integrated inductive sensor allows for semi-automatic levelling of the print bed.

Semi-Automatic Levelling

THE CNC SYSTEM

Bosch Rexroth Technology
A new state-of-the-art Bosch CNC motion- control system makes the PRO the ideal machine for controlling the entire printing process, from start to finish. Widely used in the automotive industry, the Bosch system ensures maximum responsiveness, accuracy and closed-loop control in BigRep's industrial-grade machine, as well as superior connectivity.

Bosch Rexroth Technology
Contact us 
for a quotation or more information about the
BigRep
PRO