Adoption and Diffusion of Disruptive Technologies: 'The Case of Additive Manufacturing in MedTech'
Warning!

 

This article contains graphic footage from surgeries
Last week RMIT University organised a workshop
on Additive Manufacturing in medical applications
A great panel of speakers from the medical device industry, hospitals, medical research, health insurances as the regulating body TGA promised an exciting day.
It would be too much to recapitulate the entire workshop, but here comes brief a summary with some highlights.
The day started with a warm welcome by Dr Sam Tavassoli from RMIT. Sam was the driving force behind the workshop.
Andrew Batty from Lincoln Consulting Group took over the moderation.
George Faithfull from orthopedic implant manufacturer Stryker pointed out in his presentation the challenges of the longevity of devices due to increasing life expectancy. Stryker has additive manufactured devices, like the Stryker Tritanium PL Cage in their portfolio. But Stryker has been has been active in the field of metal AM for over ten years. George touched on many topics and one of them was 'Implants on demand'.  So the manufacturing of implants in real time and which are then implanted through robot-assisted surgery. Stryker has a well funded R&D project with RMIT to develop this process. Further, he made the interesting point that Stryker could become a vendor of designs of implants which could be manufactured through third parties in the future.
Surgeon Dr George Dimitroulis and founder of OMX Solutions shared great examples of the advantages using metal Additive Manufacturing in reconstructive craniomaxillofacial (CMF) surgeries. Especially the comparisons between traditional reconstruction efforts vs the results through custom-made additive manufactured implants were absolutely striking. Instead of having two surgeries to take patient own bone structure to use it for the reconstruction the use of custom-made implants can be far less invasive. Improving patient outcomes was the main driver to start his company which is focussing on custom-made devices.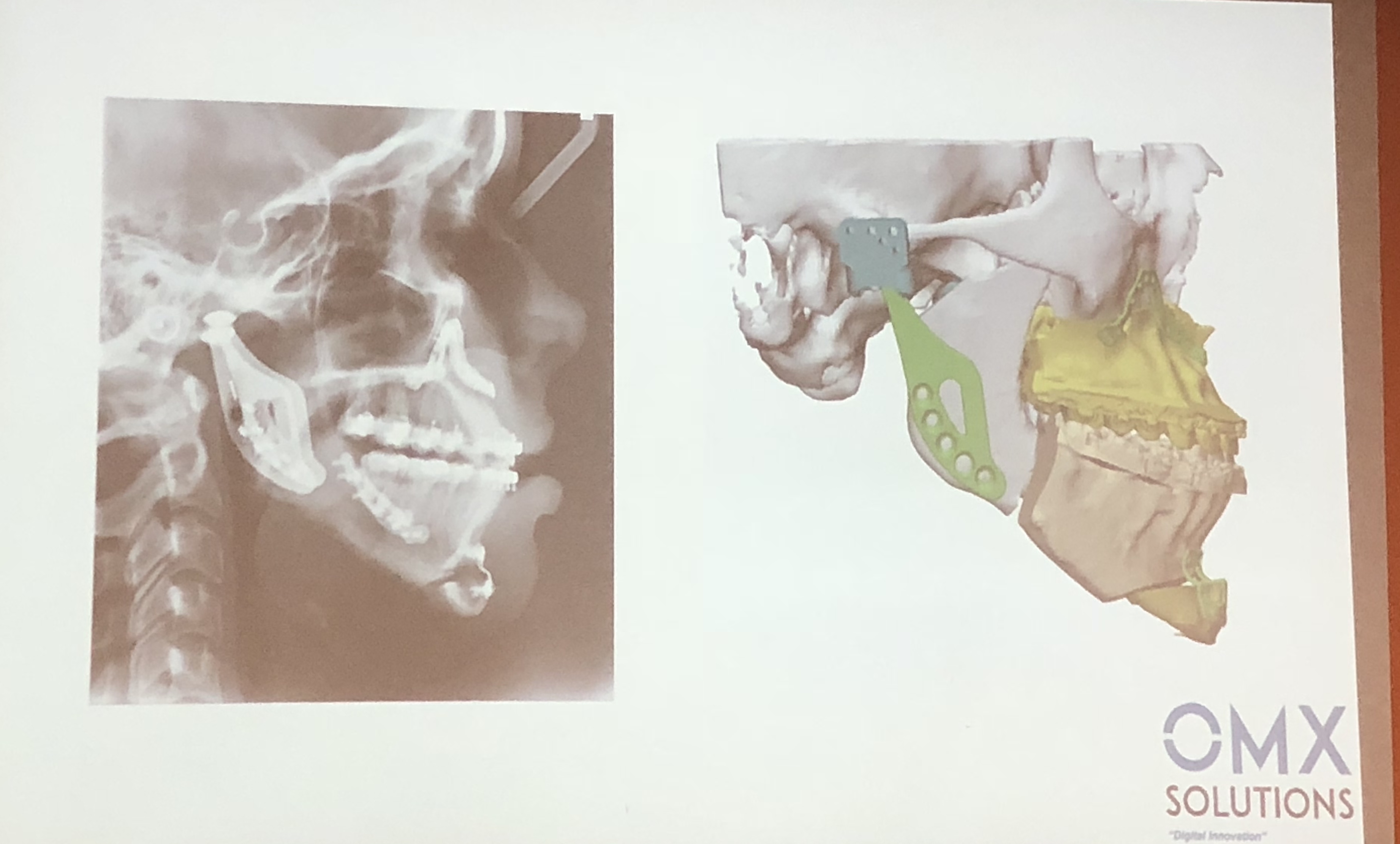 Professor Dietmar Hutmacher from Queensland University of Technology (QUT) gave examples on customisable orthopedic implants. He presented three clinical case studies of orthopedic surgeries where 3D printed bio absorbable scaffolds were used to customise implants to enhance bone growth.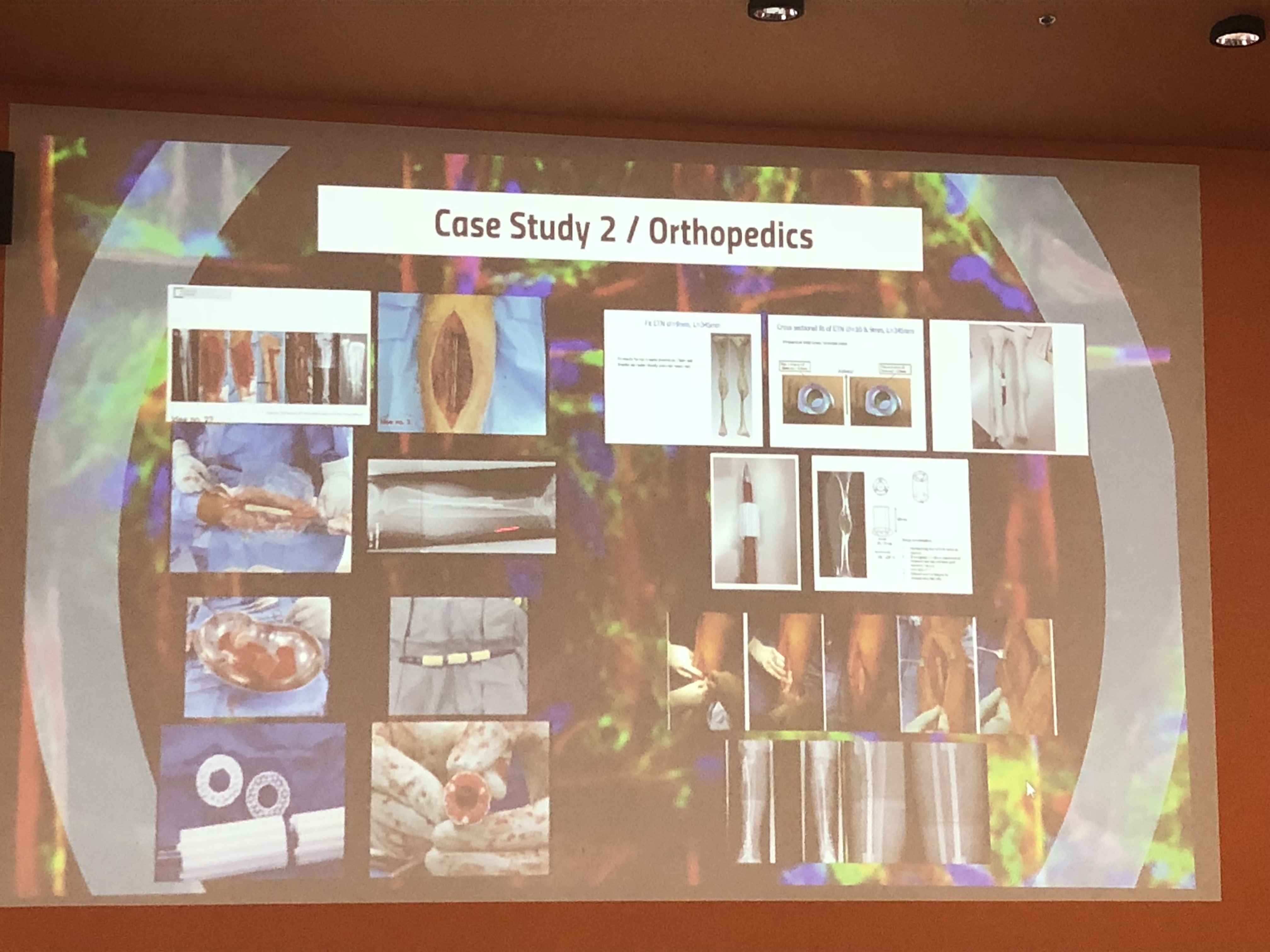 The morning session ended with a panel discussion
The discussion triggered good engagement between the speakers and the audience.
One point discussed was how difficult it is to assess costs and related outcomes.
A highly improved patient outcome can result in a far shorter time of recovery which can mean lower cost overall. But if insurances are looking only at the costs of the initial procedure, the real value might not be seen. A full assessment is needed, but with very few cases and not much historical data (yet), proper assessment is difficult.
Another point discussed was advantages and disadvantages of centralised and decentralised manufacturing.
One question was if every hospital will have their own in-house 3D printing capabilities in the future. Fact is that most hospitals have already capabilities to produce medical models which are used for operation planning, sometimes even by bio-medical engineers to assist surgeries or customization of standard implants. This and the perspective of manufacturing of implants in-house lead to questions regulation and quality assurance.
One clear conclusion was that the manufacturing method should not matter but the certification of the process was.
In the afternoon the real workshop started
Speakers and audience were grouped in teams of six.
After a quick introduction the teams had to imagine the use of 3D printing / Additive Manufacturing in the medical field in the future. The main aim was to identify current restrictions and hurdles and ways how to overcome these. Results were shared between the groups and lead to further discussions.
The workshop ended with a networking session. Everyone agreed that the event was very valuable, bringing the right people in the medical field together. TGA announced to also run a workshop in the near future. RMIT will refine and redistribute the data collected during the workshop session to push Additive Manufacturing in MedTech further.
written by Matthias Bringezu